Rory McIlroy: Marriage, Career & Net Worth
Former world champion Rory McIlroy is a British professional golfer from Northern Ireland.
Due to his exceptional play, he earned the MBE (Most Excellent Order of the British Empire) in 2012.
He is a member of both European and PGA tours.
Furthermore, he has spent over 100 weeks being the world's number one golfer.
Moreover, he became a four-time major champion by winning the U.S. Open and PGA Championship between 2011 to 2014.
Consequently, he stands with world-class players like Tiger Wood and Jack Nicklaus.
Regardless of different playing styles, all three won four majors before turning 25.
The golf whiz represented Great Britain & Ireland, and Europe as both amateur and professional.
Quick Facts
The success of Rory McIlroy's life cannot be summarized in mere words. Nevertheless, let's take a quick look at facts before going to the details:
| | |
| --- | --- |
| Full name | Rory McIlroy |
| Nickname | Rors, Wee-Mac |
| Date of birth | May 4, 1989 |
| Age | 34 Years Old |
| Birthplace | Hollywood, County Down, Northern Ireland |
| Current Residence | Jupiter, Florida, U.S.A. |
| Religion | Roman Catholic |
| Nationality | British |
| Ethnicity | Northern Irish |
| Profession | Golfer |
| Clubs | European Tours, PGA Tours |
| Caddy | Harry Diamond |
| Debut year | 2004 |
| Turned professional | 2007 |
| Professional wins | 32 |
| Highest Ranking | 1 (March 4, 2012) |
| Education | Sullivan Upper School |
| Father's name | Gerry McIlroy |
| Mother's name | Rosie McDonald |
| Zodiac sign | Taurus |
| Marital Status | Married |
| Spouse | Eric Stoll (m. 2017) |
| Children | 1 |
| Height | 5 feet and 9 inches (1.75 m) |
| Weight | 73 kg (160 lbs) |
| Hair color | Brown |
| Eye color | Dark Brown |
| Net Worth | $150 million |
| Salary | $22 million |
| Social Media | Instagram, Twitter, Facebook, Youtube |
| Merch | T-Shirt, Rookie Card, Calendar |
| Last Update | June 2023 |
Rory McIlroy: Family, Early Life, and Education
On May 4, 1989, Rory McIlroy was born in Hollywood County of Northern Ireland.
He is the only child of Gerry McIlroy and Rosie McDonald.
From a very young age, Rory was interested in golf. Moreover, his father was a golfer himself.
Subsequently, his father became his coach, taking him to the Hollywood Golf Club.
At that time, he was just 7 years old and the youngest member.
First of all, when Rory received his first club, his father taught him to hold it properly.
Then, he went to bed that night in the same position with the club.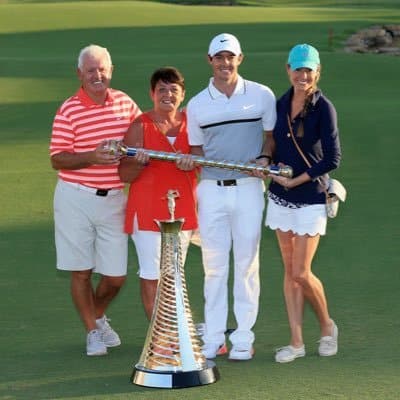 Gerry McIlroy often worked several jobs to support his son's game interests.
On the other hand, his mother worked countless hours at the 3M plant to help him.
Consequently, the young prodigy won his first major international game. Likewise, he became the world champion for 9-10.
Simultaneously, he began training at his home course, Hollywood Golf Club.
His mentor at the time was Michael Bannon. Surprisingly, the coach remains his idol and super mentor.
Similarly, the British golfer attended St. Patrick's Primary School during his childhood.
Likewise, he was later enrolled in Sullivan Upper School by his parents.
Rory McIlroy: Body Measurements
He has curly brown hair with dark brown eyes.
Similarly, he stands at 5 feet 9 inches, going up to 1.73m.
Likewise, he weighs around 160 lbs. He maintains his amazing figure by hours of gyms.
Additionally, his intense golfing sessions also aid his body goals.
Rory looks like a young buck at 34.
<<Rachelle Wilkos: Husband, Career & Net Worth>>
Rory McIlroy: Personal Life
The pro-golfer was raised in a Roman Catholic culture.
He self-identifies himself as Irish, Northern Irish, and British. However, he does not like discussing his nationality.
Currently, he holds a British passport.
He planned to represent Britain for golf in the 2020 Olympics. However, despite his statement, he ended up representing Ireland.
In addition, he also said he would have represented Northern Ireland if there was a team.
As a charitable figure, he became the ambassador for UNICEF Ireland. Following his appointment, he first visited Haiti with UNICEF in 2011.
McIlroy loves to play football. Unfortunately, he tore a ligament while playing football with his friends. Consequently, he had to miss the 2015 Open Championship.
Rory McIlroy: Career
Rory's career follows an assertive manner to becoming a professional player.
He began at the age of 7. He won his first international at 9 years old following his childhood debut.
Amateur Career
First of all, McIlroy won the 2004 Junior Ryder Cup as a member of Europe. He was just 15 years old.
Hence, he became the youngest player to win the West of Ireland and the Irish Close Championships.
Next, he won the European Amateur at Biella Gold Club in Italy.
After that, he planned to be at the East Tennesse State University under a sports scholarship. Instead, however, he decided to keep playing amateur.
In 2006, he represented Ireland to play at the World Amateur Team Championship.
In the 2007 Open Championship, he stood in the second position. Moreover, he was titled as the best finishing amateur player.
On February 6, 2007, he became the second man to top the World Amateur Gold Ranking. But unfortunately, he lost his spot just a week later.
Later, the player took part in the 2007 Walker Cup representing Great Britain & Ireland. However, he lost the game to the USA Team.
He made his first appearance at the European Tour event following the defeat. At that time, he had just turned 16.
Next, he took part in the 2007 Dubai Desert Classic when he was just 17. Hence, he had to forgo his prize money due to his age.
Finally, he earned the Silver Medal as a leading amateur in the 2007 Open Championship.
<<Patrick Kane: Contract, Wife, Jersey & Net Worth>>
Professional Career
On September 18, 2007, McIlroy turned professional. At that time, he signed with International Sports Management.
Steady road to success
In the October of 2007, he ranked 4th in the Alfred Dunhill Links Championship. He earned 4th place at the Open de Madrid Valle Romano in the following week.
He became the youngest member to earn the Affiliate membership of European Tours.
By the end of 2007 European Tours, he earned around 277,255 euros. So naturally, then, he became the highest-ranked affiliated member.
In 2008, he was invited by world legend Tiger Woods to play the Target World Challenge. Yet, he declined.
His remarkable performance could be seen in Omega European Masters in Switzerland. There, he tied with his French opponent.
Then, he finished his 2008 European Tours by ranking 79th in World Golf Ranking.
In late November, Rory became second at the UBS Hong Kong Open. Thus, he attained the highest-ranking position of 50.
Rory's first professional win was at the Dubai Desert Classic in 2009. Furthermore, he was just 19 at the time. As a result, his rank jumped to the 16th position.
The amateur-turned-pro reached the quarterfinals of the 2009 WGC-Accenture Match Play Championship. But, unfortunately, he lost to Geoff Ogilvy.
McIlroy's first major championship was the Master's Tournament. There, he could only reach the 20th position.
Later, he finished in the 10th position at the 2009 U.S. Open. It was his first top-ten position at a major.
Finally, he ended the 2009 season by ranking second at the Race to Dubai. Hence, he ranked 9th in the world.
Winning the U.S. Open
He started his 2010 season by raking third at the Abu Dhabi Golf Championship.
Next, on May 2, he won his first PGA Tour in the Quail Hollow Championship. Thus, he became the second player to win a PGA Tour before turning 21.
In the 2010 Open Championship, he tied for the third position. As a result, he ranked 7th in the world rankings.
At the end of the 2010 season, Rory suddenly quit his PGA Tour card. He mentioned he wanted to be closer to his family and girlfriend.
However, he later said he regretted the decision. As a result, he even missed the 2010 Players Championship.
At the start of the 2011 season, he took the lead of the Master's Tournament in Georgia. However, he lost.
Regardless of his loss, he bounced back quickly. On June 19, 2011, he won his first U.S. Open at Maryland.
The world got amazed by his quick regain and the most noteworthy play.
Moreover, he became the youngest player since 1923 to win the U.S. Open. After that, he took a rest to heal his wounded wrist.
Best Season of his Career
Rory's best season is undoubtedly the 2012 season.
First of all, he started with a second position at the Abu Dhabi HSBC Golf Championship. Next, he tied on 5th at the Omega Dubai Desert Classic.
After that, he finished second at the Race to Dubai. However, he also ranked second in the world rankings.
He won the Honda Classic in Palm Back, Florida. Finally, he claimed the no. 1 position at the world rankings.
Additionally, he claimed his third PGA Tour title. He also became the youngest player to be ranked no. 1.
At the WGC-Cadillac Championship in Miami, he ranked in 3rd place.
Unfortunately, he lost his no. 1 rankings to Luke Donald.
However, he regained his position as a runner-up at the Wells Fargo Championship despite his loss.
In August, he went to win the 2012 PGA Championship in South Carolina. Following his win, he ranked in the world no. 1 yet again.
He became the youngest player to have multiple majors under his name since 1980.
Later, he also won the BMW Championship. Thus, he became the first European to win four PGA Tour events in a single season.
The fantastic season also won him the 2012 Ryder Cup by defeating opponent Keegan Bradley.
Finally, he topped off the 2012 season by winning the Race to Dubai. He was ranked second at The BMW Masters and third in the Barclays Singaporean Open.
Downhill in Performance
From the 2013 to mid-2014 season, Rory fared slightly worse than his historic 2012 wins.
He lost the Abu Dhabi HSBC Gold Championship by a single shot. Additionally, he lost the Honda Classics on the PGA Tour.
Finally, before ending the season, he won the BMW PGA Championship. It was his first major win in 18 months.
Not long after, he won the 2014 Open Championship at Royal Liverpool. It was his third major since 2012.
Later, he went on to win the 2014 PGA Championship as well.
Regaining his Strength
Rory started 2015 by winning his second Omega Dubai Desert Classic. Similarly, he also won the Quail Hollows Club for the second time.
His overschedule, however, got the best of him. Therefore, he could not perform well at the BMW PGA Championships.
His performance worsened over the Irish Open and the Royal County Down.
He hoped to have a break after 5 tournaments in a row. Nevertheless, his form improved.
Finally, he went on to win Race to Dubai by defeating Andy Sullivan.
Furthermore, the win was his third win in 4 years in Dubai.
Winning the FedEx Cup
In 2016, he came second at the WGC-Cadillac Championship at Doral. Nevertheless, he made his loss by winning the Irish Open.
Following his win, he also won the Deutsch Bank Championship.
Next, in the finals of the PGA Tour Championship, he defeated Ryan Moore to win the title.
The result earned him the $10 million winning pool by the FedEx Cup.
Rory did not win any title in 2017 but came in the top 10 in The Open and Masters.
In 2018, he was a runner-up at the Omega Dubai Desert Classic.
Moreover, he won the Arnold Palm Invitational with a final round of 64.
He not only came second at the 2018 Open Championship but also won the 2018 Ryder Cup.
On June 9, 2019, he won the RBC Canadian Open by 7 strokes.
Furthermore, he became the sixth golfer to win the Triple Crown.
McIlroy won his second FedEx as well as the WGC-HSBC Champions.
Next, he regained his world champion position in 2020.
Similarly, he won a charity skins game played with Dustin Johnson.
Unfortunately, in 2021, he only secured the third position at the Abu Dhabi HSBC Championship.
Rory McIlroy: Honors and Awards
In 2012, Rory won the PGA Tour Player of the Year, Vardon Trophy, and Byron Nelson Award.
Similarly, he was voted as the European Golfer of the Year. Likewise, he won the Mark H. McCormack Award.
Additionally, he also got the Laureus World Sports Award.
In 2014, he again swept the PGA Tour awards. Then, he was awarded the RTE Sports Person of the Year.
Next, the BBC of Northern Ireland voted him the Sports Personality of the Year in 2011, 2012, and 2014.
Finally, he won the European Tour Golfer of the Year thrice.
Rory McIlroy: Partners
McIlroy has had few relationships until now.
He dated Danish tennis player Caroline Wozniacki from 2011 to 2014.
Furthermore, they had been engaged in 2013.
However, Rory broke off the engagement. The tennis player revealed he broke it off through a phone call.
To clarify his behavior, McIlroy said the day before his wedding; he didn't feel ready.
He also thanked Caroline for the time they had.
Following their breakup, he started dating Erica Stoll in 2015.
His girlfriend was a former employee of PGA America. By December 2015, they got engaged in Paris.
Finally, they married in April 2020. The wedding was held at Ashfold Castle in Cong, County Mayo.
The couple birthed daughter Poppy Kennedy McIlroy on September 3, 2020.
Rory McIlroy: Controversies
Rory became infamous for his short temper during games.
He threw a club into the water after his ball went to the water during WSG-Cadillac Championship in 2015.
Next, he described the Ryder Cup as more of an exhibition. The caption of Ryder Cup retaliated, saying, "It's not an exhibition… it's a special event."
Rory apologized for his mistake after that.
In 2011, he was criticized for not participating in The Players Championship.
After that, he was criticized on air by Jay Townsend. Then, he retaliated by tweeting him to "shut up." He, however, stood by his comment.
When his performance was low in 2011, he was criticized for blaming the weather rather than changing his form.
Although he withdrew from the 2013 Honda Classic due to teeth pain, he was criticized for not finishing. Many speculated it was because he could not adjust to the new gears.
Rory McIlroy: Net Worth
The golfing whiz earns a hefty sum with his endorsements and sponsorships.
Rory McIlroy' has a net worth of $150 million.
Likewise, he has one hell of a fortune because he signed a 10-year contract with Nike worth $10 million per year.
He gets around 4000 euros of winning with every stroke in his PGA Tours.
<<Alexander Gustafsson: Girlfriend, Career & Net Worth>>
Rory McIlroy: Sponsorships
Rory McIlroy gained numerous sponsorships, including the giant Nike. Additionally, he once signed a $100 million endorsement deal with TaylorMade.
He has partnered up with Optum, Golfpass, NBC Sports, and Omega Watches.
Rory McIlroy: Social Media
Rory has been active on all his social media.
First of all, his Instagram has over 2.3 million followers.
Next, his Facebook has over 1.3 million followers.
Similarly, his Twitter gets the highest follower of 3.1 million.
Rory also has his own YouTube channel with over 10.1k subscribers.
Rory McIlroy: Trivia
First of all, Rory became the youngest player to secure his European Tour card during his amateur career.
Next, the pro golfer's favorite football team is Manchester United F.C.
In 2018, he appeared in the episode of The Grand Tour alongside celebrity Paris Hilton. Then, he raced her in that episode.
Likewise, Rory sold his house in County Down for 2 million pounds.
Rory McIlroy: FAQs
How rich is Rory McIlroy?
He is worth around $150 million currently.
Additionally, he ranks 14th in the World's Highest-Paid Athletes list.
Likewise, Rory ranks 6th in the World's Richest Golfer list.
Is Rory McIlroy gay?
No, the professional golfer isn't gay!
Rory remains straight and married to his wife.