Sheaun McKinney was born and raised in Miami, Florida, United States, on July 24, 1981, and began acting in theater while attending Miami-Dade College.
Sheaun is an American actor and producer. He is famous for Dayshawn on Vice Principals (2016), Great News (2017), Boss Level, and Malcolm on The Neighborhood.
Currently, alongside Mel Gibson, Frank Grillo, and Naomi Watts, Sheaun is gearing up for the upcoming Thriller/Sci-fi film Boss Level, scheduled to be released in 2020.
Let's check his biography about his early life, career, and his girlfriend too!
Quick Facts
| | |
| --- | --- |
| Full Name | Sheaun Jamar Mckinney |
| Birth Date | July 24, 1981 |
| Birth Place | Miami, Florida |
| Age | 41 Years Old |
| Nick Name | Unknown |
| Religion | Unknown |
| Nationality | American |
| Ethnicity | African-American, Caribbean |
| Education | Miami-Dade College |
| Horoscope | Leo |
| Father's Name | Unknown |
| Mother's Name | Unknown |
| Siblings | Rakeem McKinney, Rachel McKinney, Bechir Sylvain |
| Height | 6 Feet 1 Inch (185 cm) |
| Weight | Unknown |
| Hair Color | Brown |
| Married | No |
| Girlfriend | Chasten Harmon |
| Profession | Actor, writer, producer |
| Net Worth | 1.7 Million Dollars |
| Social Media | Twitter, Instagram, Facebook |
| Last Update | March, 2023 |
Sheaun Mckinney: Early Life, Family & Education
Comedian-actor Sheaun was born in Miami, Florida, on July 24, 1981. His family includes his parents, two brothers, and a sister. His mother was a police officer, while the profession of his father is still unknown.
Sheaun grew up with his three siblings. His brothers are Bechir Sylvain and Rakeem McKinney. He's got a sister whose name is Rachel McKinney.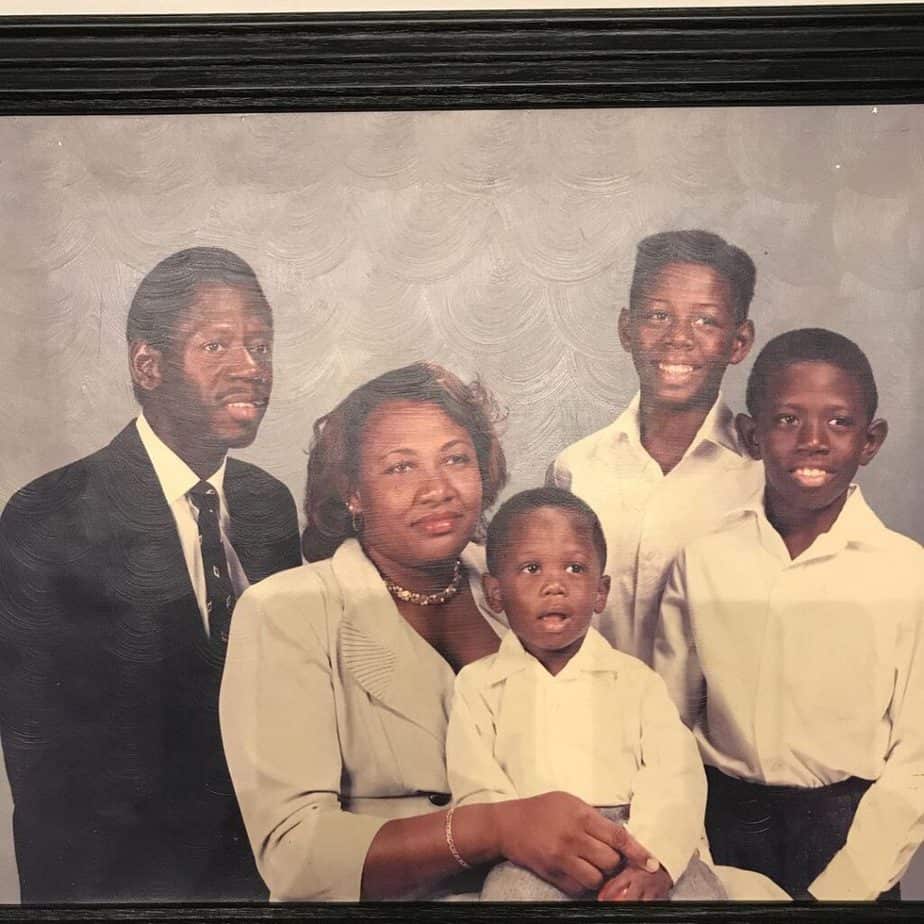 Growing up, Sheaun dreamed of a sports career and artist and even founded a rap group, 3 in Da Clip, with his high school friends. He considered becoming a chef when he felt that he couldn't be a star athlete.
Fortunately, when reading A Raisin in the Sun in class, his grade school teacher identified his natural talent as an actor. He took drama classes in high school, encouraged by his teacher, and sharpened his culinary abilities with his grandmother and parents.
Upon his mother's suggestion, McKinney auditioned for the school's theatre play. It was a fresh and exciting opportunity for him to be cast and perform on stage. His performance was sufficient to receive him a theater scholarship and become the campus theater club's president.
Sheaun Mckinney: Career
Sheaun started his career by creating productions called Ground Up Rising alongside his two friends. After continuous hard work, he landed a leafing role in the movie named The Bahama Hustle.
He then moved to Los Angeles to pursue and uplift his career in acting. But things did not go according to his plan. McKinney went through a bit of a downturn in his career, with only a few minor roles to his credit. Sheaun got frustrated and decided to go back to Miami to explore an alternate career as a Police Officer.
Upon returning to Miami, he started training to be a law enforcement officer. He even passed the preliminary tests. But things took an unexpected turn. One day, his manager called him to say that the casting agents who had seen his work wanted him to audition for HBO's new comedy television series, Vice Principals.
He received a letter from the police academy around the same time saying that he was not accepted. So McKinney decided to have a shot at this audition. And luckily, he earned the biggest role of his career, as a character named Dayshawn in HBO's Originals The Vice Principals.
After his return to L.A, Sheaun enjoyed a spree of accomplishment. He's been cast in NBC'sGreat News alongside his HBO role. Sheaun now stars with Cedric the Entertainer in his very first network TV show CBS 'The Neighborhood.
Sheaun also has a film, Boss Level, scheduled for release in 2019.
Below are the lists of his movies and TV Series he acted in and produced:
As Actor
| | |
| --- | --- |
| Boss Level (Movie) | 2021 |
| The Neighbourhood (TV Series) | 2018-2020 |
| Snowfall (TV Series) | 2017-2019 |
| Room 104 (TV Series) | 2018 |
| Drunk History (TV Series) | 2018 |
| Door No. 1 (TV Series) | 2018 |
| Life In Pieces (TV Series) | 2018 |
| Lethal Weapon (TV Series) | 2018 |
| Great News (TV Series) | 2017-2018 |
| Halfway There (TV Movie) | 2018 |
| Vice Principals (TV Series) | 2016-2017 |
| Make It Happen | 2010-2013 |
| Graceland (TV Series) | 2013 |
| Common-Law (TV Series) | 2012 |
| Know Thy Enemy | 2009 |
| Burn Notice (TV Series) | 2007 |
| The Bahama Hustle | 2004 |
As Producer
| | |
| --- | --- |
| Make It Happen (TV Series) | 2013 |
Sheaun was even able to win the Audience Awards at the Short Cuts Film Festival for his scripted and produced web series named "Make It Happen."
He also holds a renowned record of working in theatres and as a rap artist. Together with other actors like Bechir Sylvain and ArturoRossi, he co-founded the theater company Ground Up & Rising.
Sheaun Mckinney in "The Neighbourhood"
The Neighborhood debuted on October 1, 2018. The comedy TV show is about a man who moves to Los Angeles with his family, where his neighborhood does not appreciate him.
Sheaun, however, had actually auditioned for Marty, the lead role of the show.
Unfortunately, as he was pretty old, he couldn't get the role. Sheaun's manager, therefore, called him and asked him to play Malcolm Butler's role.
But after reading the script, he realized that he fitted more into Malcolm's role than Marty.
Sheaun Mckinney: Age, Height & Nationality
Sheaun McKinney stands up tall with a height of 6 feet and 1 inch. His body weight is also very balanced with a good physique. His overall body statistics is unknown for now.
Sheaun does have all the things to be an actor that is required. He has the best acting skills and a good sense of dressing that has gained massive fans.
He's a handsome guy with brown hair with brown eyes and a lovely smile. He has a beard on his face and a perfect physique that draws and has the ability to impress his fans.
Political Opinion
Sheaun appears to be a supporter of Democrats. In the recent US Presidential Election, Sheaun's expressed his support towards Democrats by posting this on his Instagram.
Change is happening. Character, morals, ethics, and humanity matters. Those attributes have been absent in America for 4yrs. People were literally voting for their lives, and you can simply see those who were disproportionately affected by Trump. It doesn't matter if you are Democrat, Republican, Independent but it does absolutely matter if you lack humanity, morals and compassion bcuz we have seen what this country has factually done to it's own people.

Because you aren't affected by injustice doesn't mean it doesn't exist and certainly doesn't mean it's not your problem. We took steps forward today, we truly did. Kamala Harris is the 1st female Vice President and Women and Black people had to fight and die to be able to vote, we owe it to those who took on that fight and still are to move forward. God Bless us all. The idea and concept of "America" could be beautiful if it's ALL inclusive.
https://www.instagram.com/p/CHTDI_XpEJ1/?utm_source=ig_web_copy_link
Sheaun Mckinney: Net Worth & Salary
Sheaun is listed in Hollywood as one of the most successful actors. He has outstanding records and experience working with renowned actors. By the name of Ground Up & Rising, he has his theater company, remained a member of Da Clip's rap group, and several prestigious awards.
As of 2020, Sheaun has an estimated net worth of $1.7 million. As an actor and producer, he acquired his fortune from his career.
He made $46k to $98k annually as a production manager on different TV series. Mckinney has also appeared in many of his TV series like HBO's original Vice Principals, Prime Original's The Neighbourhood, where he earned $20k to $40k per episode. As an associate producer, Sheaun also made a satisfying income that ranged from $19k to $80k.
Sheaun Mckinney: Hobbies
Sheaun is a passionate Golf fan. He often posts his photos playing golf on the golf courses. He also attended the 19th Annual Emmys Golf Classic, which featured celebrities like Cedric The Entertainer, Edwin Hodge, and Aaron Kaplan.
Sheaun is also a huge NBA fan. He supports Miami Heat. When Sheaun was born, Miami Heat didn't exist, so he was a Dolphins fan first, but later, eventually, he became a fan of his hometown club.
He is also seen attending PPV of entertainment shows like SmackDown and other Wrestling events.
Sheaun Mckinney: Girlfriend
Sheaun enjoys his romantic relationship with his girlfriend, Chasten Harmon.
Chasten Harmon is also an actress who has made several appearances in the US drama Damnation and can be seen next playing Star Johnson in the new ABC series The Fix (written by Marcia Clark).
From early 2019, Sheaun and Chasten began to discuss their relationship and usually share their images on their respective Instagram handles.
https://www.instagram.com/p/Bt42RSVBX51/?utm_source=ig_web_copy_link
The couple has not yet talked about details of their relationship that can reveal whether they are already married or are just enjoying their relationship.
Social Media
Sheaun is a regular user of social media sites like Instagram, Twitter, and Facebook. He posts regularly about his life, his works, and his thoughts on social media.
Twitter: 1.6k Followers
Instagram: 9.3k Followers
FAQ
Is Sheaun a member of the Rap Group?
Yes, he was a member of the rap group named 3 in Da Clip.
What is Sheaun Mckinney's Nationality?
His nationality is American.
From which college Sheaun Mckinney graduate?
Sheaun Mckinney graduated from Miami-Dade College.
Which Ethnicity does Sheaun Mckinney belong to?
He belongs to Afro-Americans or African-Americans.