Timo Boll: Family, Injury & Net Worth
Timo Boll is one of the famous and trending Table Tennis players. He is more prominent in China than in his home country, Germany.
The 42 -year-old is known as a clever tactician as well as a fair sportsman.
He is the eleven-times European Champion who currently plays for Borussia Düsseldorf.
You will find detailed information about Timo Boll in this article.
Before getting started, let's have a glance at some quick facts about him.
Quick Facts
Full Name

Timo Boll

Date of Birth

March 8, 1981

BirthPlace

Erbach, Hessen, West Germany

Age

42 years old

Zodiac sign

Pisces

Nickname

Timo

Gender

Male

Nationality

German

Father Name

Wolfgang Boll

Mother Name

Gudrun Boll

Sibling

Not available

Ethnicity

White

Marital Status

Married

Wife Name

Rodelia Jacobi

Children

One ( Zoey Malaya)

Height

1.81m (5ft 11in)

Weight

74kg (163 lb)

Hair color

Brown

Eye color

Brown

Education

Konan High School




Okinawa International University

Occupation

Athlete

Discipline

Table tennis

Career Debut

1996

Playing style

Left-handed, shake hand grip

Highest ranking

1

Current ranking

10 (April 2021)

Club name

Borussia Dusseldorf

Equipment(s)

Butterfly Dignics 09c (Black, FH); Butterfly Dignics 09c (Red, BH), Butterfly Timo Boll ALC blade

Language

German(native), Chinese

Social Media

Instagram, Facebook, Twitter, Youtube

Endorsements

Butterfly Table Tennis

Net Worth

$7 million

Merch
Ping Poll Table

Last Update

December, 2023
Timo Boll: Early life, Parents, and Education
The famous table tennis player Timo Boll was born on 8th March of 1981, in Erbach, Hessen, Germany. The World Tennis Champion was born to Wolfgang Boll and Gudrun Boll.
At the tender age of four, Timo had already started playing table tennis.
When he was 4, he was coached by his father, Wolfgang Boll. His father accompanied him for the first four or five years and trained him to develop the necessary feel for the sport.
When he was six years old, Timo joined his first club and began playing on a team at eight or nine years old.
At the age of 8, the tennis player was discovered by Helmut Hampel, a Hessian trainer. After that, he started to train at the training center Pfungstadt.
In addition, Boll finished school with a secondary school level certificate.
<< Karen Cockburn: Family, Injuries & Net Worth >>
Timo Boll: Age, Height, and Weight
Timo Boll was born on 8th March of 1981. According to his birth date, his current age is 42 years old.
He stands 5 feet 11 inches tall or 181 cm. And he weighs about 74 kg (163 lb)
Timo Boll: Career
From a very young age, Timo Boll was already participating in the table tennis competition.
He held the title of the youngest player in the national league at the age of 14.
In 1995, during the Table Tennis European Youth Championships, he celebrated his first international success by winning three gold medals.
Moreover, the year 2002-2003 is considered the golden years for Timo Boll.
In 2002, Boll became the first German tennis player to win the Europe-Top-12-Tournament after beating Vladimir Samsonov in the final.
According to the ITTF Rankings, Boll also became the best German player overtaking Jörg Roßkopf.
Likewise, in the same year, he beat the world champion Wang Liqin and the Olympic champion Kong Linghui in the World Cup held in Jinan, China.
After that, he became the highest-ranked player in the world. With that, Boll reached the top of the world rankings in 2002-2003.
Rise to Fame
Following up the World Cup, Timo again won gold in 2005, held in Liège, Belgium. There were many ups and downs in Timo Boll's career.
Not only did he win the gold medals, but there were also several championships where he ended with silver and bronze medals.
The tennis player won silver in the 2008, 2017 Liege, 2012 Liverpool, and 2018 Paris World Cup. And bronze in 2010 Magdeburg, and on 2014 Dusseldorf World Cup.
Moving on to the other Championships, Timo made his debut in the European Senior Championships as a 17-year-old in 1988 though Mikael Appelgren took away that title. However, Timo's victories started in 2002.
He won his first gold in men's single in the European Championships held in Zagreb 2002, beating Bojan Tokic.
Not only single's he also won gold in the men's doubles with Zoltan Fejer-Konnerth.
Again, in 2007, he won the European Championship singles, doubles, and team competition.
Furthermore, he has won the European Championships in Saint-Petersburg 2008, Ostrava 2010, Gdansk-Sopot 2011, Herning 2012, Alicante 2018, and the most recent one in Warsaw 2021.
Similarly, the German star Timo Boll has also won the title of the 2019 European Games held in Minsk, Belarus.
About the club, the left-handler has been playing table tennis in Bundesliga for the German record champion Borussia Düsseldorf since 2006.
Timo Boll: Olympics
Two times World Tennis Champion Timo Boll made his Olympic debut in Sydney in 2000.
Although he was preparing for the 2004 Summer Olympics, it was hindered by his back problems.
As a result, he was outclassed by Jan-Ove Waldner in the quarterfinals. But he won his first Olympics medal in 2008 Beijing in the team match.
Timo Boll reached only the fourth round of the finals in the single match as Oh Sang Eun, Korea, defeated him.
Though he could not win the singles medal in the Olympics, Timo, Christian Suss, and Dimitrij Ovtcharov won the silver in the team match.
Similarly, the tennis player won silver in the team match of the 2020 Tokyo Olympics and bronze in the 2012 London and 2016 Rio de Janeiro.
Awards
Table Tennis Junior Player of the Year – 1997

German Table Tennis Player of the Year – 1998

2005 German Sports Personality of the year – 3rd position

2005 Bambi Sport

2006, 2008, 2010 Sportsman of the Year in Hessen

2007 Fair-Play-Award pf MInister of the Interior Home Secretary

2007 German Sportsmen of the Year – 2nd position

2010 German Sports Personality of the year – 2nd position

2017 ITTF Male Table Tennis Star
<< Top 10 Most Popular Sports in the World >>
Technique
Timo's most important techniques are the topspin play with both backhand and forehand and the backhand services.
His unique technique, being left-handed, has grabbed people's attention.
The tennis player is well known for his quick backhand loop, which brought him most of his fame and wins.
In addition, he is renowned for being one of the top players in generating elevated amounts of spin, especially in his opening topspin.
Timo Boll: Injury
Like other athletes, Timo Boll also had to face an injury. In addition, Timo was troubled by back problems during 2004, which also hindered his preparation for the 2004 Summer Olympics.
Early in the 2005 season, his back problems struck again; nevertheless, the tennis player won the silver medal in doubles at the World Championship, playing with Christian Süß.
Again, in 2015 Timo suffered from a knee injury. There was a thickening of the Mocous Fold, a thin synovial membrane, below the knee cap of Boll.
Because of the knee injury, Boll was forced to withdraw from the 2015 European Championships.
Almost ten months before the start of the Rio Olympics, Timo underwent knee surgery.
The surgery kept Boll out of action for an extended period. After resting from the surgery, Timo came back to his usual self afterward.
Timo Boll: Personal Life
On December 31, 2002, Timo Boll married his long-time girlfriend, Rodelia Jacobi. Before the couple married, they were a couple for many years.
Rodelia Jacobi keeps a low profile as she does not maintain any accounts in the social networks and largely stays out of the public eye.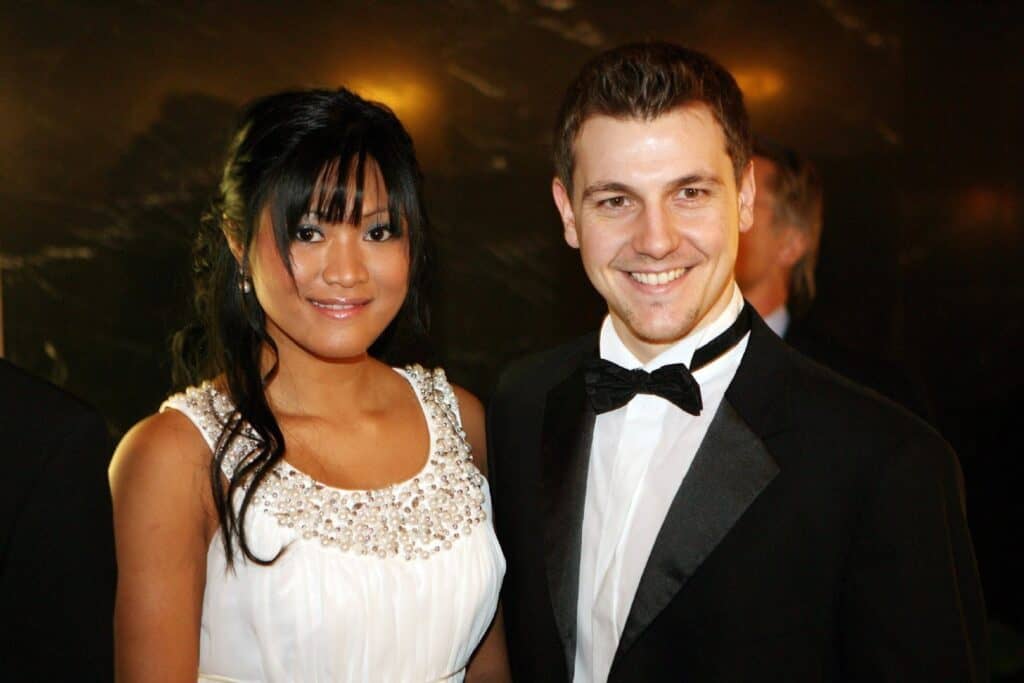 However, you can see Rodelia at her husband's competition cheering for him.
And, on December 4, 2013, they gave birth to their beautiful angel, Zoey Malaya.
Timo Boll: Net Worth and Salary
Timo Boll is an international German table tennis player who has a net worth of $7 million, making him the second wealthiest table tennis player.
His salary is expected to be $16,000 per match. So, Boll earns around $35,000 per season win.
Apart from matches, Timo has also earned a good amount of money from the prize money and endorsements.
Sponsorships
Timo Boll has been sponsored by Butterfly table tennis since 1993.
He has been associated with Butterfly Table Tennis since his career started and still works and endorses their products.
In May 2007, the player extended his sponsorship until 2015 and is still playing with Butterfly's equipment.
<<Marina Lezcano: Early Life, Retirement & Net Worth>>
Timo Boll: Social Media Presence
Timo is one kind, loving, modest, and down-to-earth human being.
The German professional table tennis player is active on Instagram, Facebook, Twitter, and Youtube.
Through these different sites, Timo is connected to his fans and followers and the whole world.
The athlete has 201k followers on Facebook, 99.5k on Instagram, and 25.7k followers on Twitter.
From his various social media post, it can be said that Timo is a fun, caring, and passionate person. And most of his post is related to tha table tennis.
Timo also has his own Youtube channel, "Timo Boll." He has around 50k subscribers on his youtube channel.
On November 2, 2017, Timo joined youtube, and he has mainly uploaded table tennis tutorials videos and Vlogs on his channel.
Frequently Asked Questions (FAQs)
Has Timo Boll retired?
Germany's three-time table Olympic medalist is not retired. He told the Olympic channel that he is not looking forward to retirement anytime soon.
The tennis player wants to play as long as his health allows it, and he enjoys playing tennis.
Does Timo Boll speak Chinese?
Yes, the German table tennis player can speak Chinese.
The eleven-time European table tennis champion is more well-known in the Far East than his native Germany, to the extent where he cannot walk down the street without being stopped.
Boll started to learn a little bit of Chinese a few years ago but cannot communicate properly. Also, Boll admits that his Chinese is limited.
Who is the best German table tennis player?
Timo Boll is considered the best German Table Tennis player with an HPI of 57.93.
Also, he is ranked second in the German Table Tennis National League and tenth in the ITTF world rankings as of July 2021.
He ranks among the best German table tennis players of all time, ranking world No. 1 in 2003.