Ronnie O'Sullivan: Depression, Relationships & Net Worth
Ronnie O'Sullivan is a proficient Snooker Player renowned all over the world for his excellence in the profession.
The English player is one of the world's most accomplished players in history. He got this respect by earning 37 ranking titles on the World Snooker Tour.
In fact, the player breaks the previous record of 36 titles made by Stephen Hendry.
The athlete has won the Masters champion seven-time and the UK champion also seven-time.
Likewise, he has won a record 20 Triple Crown titles, surpassing Stephen Hendry's previous record of 18.
Also, Ronnie is the world number 2 who has won 6 world snooker championships. He is, in fact, the only player to win the world snooker title in three separate decades.
When you put your heart and mind to the things you want, you can definitely create a history.
Likewise, Ronnie put in his best effort, and that's why he is still proficient in the profession.
Also, the player believes it is a waste of your talent if you can't give your best to what you know.
Ronnie has a different and unique playing style. Hence, he is nicknamed "The Rocket" due to his rapid playing style.
His fans also consider Ronnie O'Sullivan as the most naturally gifted snooker player of all time.
In fact, he was a child prodigy who has gone on to become one of the most popular worlds champions.
Also, the player's professional amateur tournament was his breakthrough in his professional career.
Quick Facts:
| | |
| --- | --- |
| Full Name | Ronald Antonio O'Sullivan (ODE) |
| Nickname | The Rocket |
| Date of birth | December 5, 1975 |
| Place of birth | Wordsley, West Midlands, England |
| Current Residence | Buckhurst Hill, Essex, England |
| Age | 47 Years Old |
| Height | 5 feet 9 inches (180 cms) |
| Weight | 166 lbs (75 kgs) |
| Eye color | Hazel brown |
| Hair color | Dark Brown |
| Skin color | Fair |
| Body type | Athletic |
| Gender | Male |
| Sexuality | Straight |
| Nationality | British |
| Religion | Not Available |
| Ethnicity | White |
| Horoscope | Sagittarius |
| Birthstone | Torquoise |
| Lucky number | 8 |
| Lucky color | Blue |
| Hobbies | Football, Motor Racing |
| Father's name | Ronnie O'Sullivan Sr. (Ronald John) |
| Mother's name | Marie (nee Catalano) O'Sullivan |
| Siblings | Danielle O'Sullivan |
| Marital Status | Not Married (engaged) |
| Spouse/Children | Laila Rouass |
| Children | Taylor-Ann Angus, Lily O'Sullivan, Ronnie O'Sullivan |
| Education | Wanstead High School |
| Profession | Professional Snooker Player |
| Highest ranking | 1 (May 2002-May 2003, May 2004-May 2006, May 2008-May 2010, March-August 2019) |
| Current Ranking | 3 (as of May 4, 2021) |
| World Champion | 2001, 2004, 2008, 2012, 2013, 2020 |
| Career Winnings | £11,989, 155 |
| Century Breaks | 1107 |
| Years active | 1992-Present |
| Net Worth | $15 million |
| Social Media | Twitter, Facebook, Instagram |
| Website | ronniesullivanshop.com |
| Last Update | November, 2023 |
Ronnie O'Sullivan: Early life
Ronald Antonio O'Sullivan was born on December 5, 1975, in Wordsley, West Midlands, England.
However, the player was brought up in the Manor Road area of Chigwell, Essex, England. In fact, he still lives in the same city.
No matter where people go in the world, they are always connected to their roots. Thatswhy Ronnie decided to get back to the city that had his childhood memories.
Actually, the young O'Sullivan had to take care of his young sister when he still was a child because his parents were both charged with criminal offenses.
Despite all the struggles and challenges, the player became proficient and a renowned person in the world.
You may be interested to learn about CrossFit athlete Tia-Clair Toomey.
Ronnie O'Sullivan: Height, Weight, and Ethnicity
The player who is often addressed as a perfectionist has a fit masculine body. Ronnie stands 5 feet 9 inches tall, and he weighs 166 lbs.
Also, he has beautiful hazel brown eyes and dark brown hair.
Ronnie has British nationality. And he belongs to the white ethnicity.
Moreover, regarding his religion, the debate about the player's conversion to Muslim often gets popular in the media. But, in fact, the athlete had a self-professed interest in Islam.
However, he denied the media reports that claimed he had converted to the religion in 2003.
Additionally, Ronnie also has shown an interest in Buddhism. He has spent many lunchtimes at the London Buddhist Centre in Bethnal Green.
Clearly, the player denies having a firm commitment to any religion.
Ronnie O'Sullivan: Educational Background
Ronnie O'Sullivan attended Wanstead High School. It is a co-educational, comprehensive secondary school located in Wanstead, London, United Kingdom.
Initially, he also did primary schooling at a local school in Chigwell. But as he got associated with sports, he moved out and joined another school.
Still, the youngest player had to leave school without any academic qualifications.
Thus, Ronnie doesn't have any such professional degree. The player also mentions his inability to be academically successful in many of his interviews.
Ronnie O'Sullivan: Family and Personal Life
Ronnie O'Sullivan was born in England. His father's name is Ronald John O'Sullivan, and his mother's name is Maria O'Sullivan.
The player's parents ran a string of sex shops in the Soho area of London.
Sadly, in 1992, his father was sentenced to life in prison. Actually, he got the punishment for murder.
Later, he was released in 2010 after serving a sentence for eighteen years.
Likewise, his mother was also sentenced to a year in prison in 1996. Again, she was charged for tax invasions.
This all led the young player to stay alone. He also had to take care of his eight years old sister. His sister's name is Danielle O'Sullivan.
Besides, his first cousin Maria Catalano is also an English professional snooker player. In fact, she has also been ranked number one in the women's game.
She was ranked world number one for the 2013-2014 season.
Maria Catalano won the British Open and the Connie Gough National Championship in 2007.
In fact, she has been runner-up five times. The player has the highest break of 123.
Relationships and Children
Ronnie O'Sullivan has an exciting personal life.
Initially, he used to date Sally-Ann Magnus. They were dating in the nineties.
In fact, the lady moved in with him when both his parents were sentenced to jail.
The couple also has a daughter from that relationship. His daughter's name is Taylor-Ann Magnus. She was born in 1996.
She also has a beautiful daughter who was born in October 2018. However, she doesn't have a good relationship with her father.
Also, the lady blames her dad for cutting off her expenses out of nowhere. And she also tells that her father's lack of attention led her to get soaked in drug addiction.
After breaking it off with Sally, Ronnie dated the actress Jo Langley. The couple met at Narcotics Anonymous. They did have a long-term happy relationship.
Also, the couple has two beautiful children. They have a daughter named Lily O'Sullivan, born in 2006.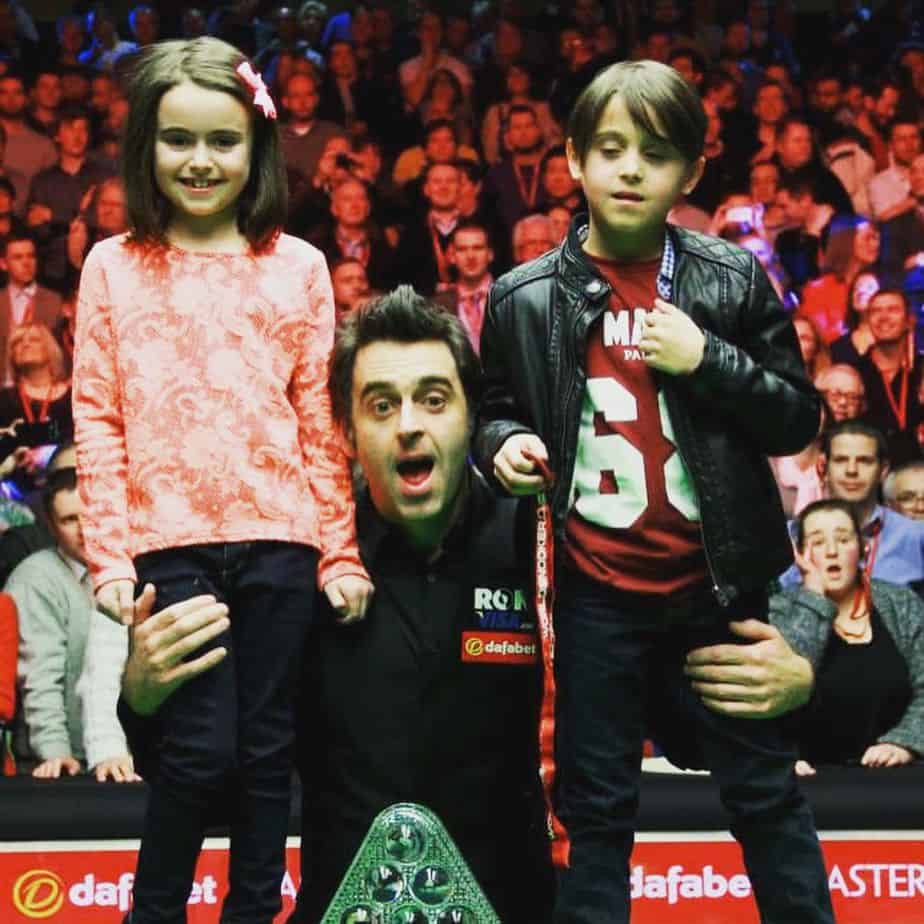 Likewise, they also have a son named Ronnie O'Sullivan Jr, born in 2007.
Sadly, the relationship with Jo Langley also came to an end despite having a family together.
The current Girlfriend
Currently, the player is engaged to the actress Laila Rouass since 2013.
Laila is a British actress known for her roles like Amber Gates in Footballer's wives and Sahira Shah in the series Holby City.
She has been a part of the series from 2011 to the present.
Previously, the actress was married to Abdeslam Rouass in Tower Hamlets, London. She also had a beautiful daughter in 2007.
However, after their separation in 2008, she took care of her daughter as a single mother.
You may be interested to learn about the snooker player Mark Selby.
Ronnie O'Sullivan: Career
Ronnie became an amateur competitor at the age of seven. And then he won his first club tournament at the age of ten.
The proficient snooker prodigy began his professional career at a very young age of ten. Similarly, he made his first competitive century break at the age of ten.
At the age of 18, he won 74 of his first 76 qualifying matches, including a record of 38 consecutive professional victories.
Following, the player reached his first world final in 2001. He defeated John Higgins 18-14 to claim the first world title. And he reached number two in world rankings.
Later in 2005, the athlete won his second Masters's title. Then, following, he won his third Master's championship two years later, in 2007.
Parallelly, in the same year, he won his fourth Uk championship.
Dealing with Depression
In the mid-2000s, the player battled clinical depression. He also became notably erratic even in public.
The player even shaved his head mid-tournament during the 2005 World Championship.
He exhibited a public emotional disintegration while losing 11 of the 14 frames in his quarter-final against Peter Ebdon.
Again, at the 2005 UK Championship, the player sat with a wet towel draped over his head during the match against Mark King.
Likewise, while trailing Stephen Hendry 1-4 in their best of 17 frames quarter-final at the 2006 Uk Championship, he showed the same irritational behavior.
Actually, Ronnie abruptly conceded the match during the sixth frame and left the arena.
Hence, he was fined £20,800 over the incident, whereas Henry was awarded 9-1.
In fact, the player is often known for his unpredictable temperament and outspoken views. As a result, he has often been at the center of controversy.
The player has also received many warnings and sanctions from snooker's governing body for his behavioral issues.
Actually, the player assaulted an assistant press officer during the 1996 World Championship. Consequently, he received a two-year ban and a £20,000 fine.
Likewise, after winning the 1998 Irish Masters, the player has been stripped of his title and prize money.
Again, it happened because a post-match drug test found evidence of cannabis in his system.
As a result of frequent abuse of drugs and alcohol in the early years, he had to be in hospital for rehabilitation.
Championships
Also, he won the British Under-16 Championship at the age of thirteen.
Likewise, his first competitive maximum break was at the age of fifteen. And he also won the IBSF World Under-21 Snooker Championship.
Similarly, he won the IBSF World Under-21 Snooker Championship and Junior Pot Black.
However, he turned professional at the age of 16 in 1992. Then at the 1993 UK Championship, he won his first ranking title at 17 years.
Following, this made him the youngest player to win a professional ranking event.
Additionally, he is also the youngest player to win the Masters. He achieved this rank in 1995 at the age of 19 years.
Other Professional Endeavors
Besides snooker, the player also has an interest in multiple other professions.
For example, he co-hosted a radio show, Midweek Matchzone, and Christ Hood in 2015 and 2016. And it was aired on Brentwood radio station Phoenix.
He is also a global brand ambassador of Eurosport for snooker. They signed the exclusive deal in March 2014 to drive the sport's international appeal.
Additionally, as part of the deal, Ronnie created an exclusive snooker series for the network called The Ronnie O'Sullivan Show.
The show also included his insights into the game, interviews with other professional players, and playing tips.
Besides, the player also appears as a pundit on Eurosports's snooker coverage alongside Jimy White and Neal Foulds.
Furthermore, he also starred in a miniseries Ronnie O'Sullivan's American Hustle. He also toured the United States for the series with broadcasting friend Matt Smith.
Additionally, the player is also a book author. He has authored several books.
Further, Ronnie collaborated with author Emlyn Rees and wrote three crime novels.
The novels are Framed, Double Kiss, and The Break. These were respectively released in 2016, 2017, and 2018.
He has also written two autobiographies. His first one, entitled The Autobiography of Ronnie O'Sullivan, was published in 2003. And the second one Running: The Autobiography, was released in 2013.
The player has also coauthored a health and fitness book.
In addition, he collaborated with nutritionist Rhiannon Lambert and released the book entitled Top of Your Game: Eating for Mind and Body.
The book was published in 2019. And it contains healthy recipes and advice for living a healthier and better life.
Ronnie O'Sullivan: Social Media
The world-famous snooker player is very active on social media platforms.
His Twitter handle is indeed a verified Twitter account with 500.3 K followers.
There are 8838 Tweets from his Twitter handle. Undoubtedly, the Tweets are about sports, specifically snooker.
And his Twitter bio says, " 6X World Snooker Champion. Brand Champion @Rokit, Ambassador @Eurospoty, @RileyBCE & 19.com."
Likewise, the player also has a verified Instagram account. His Instagram handle is @ronnie. it has 425K followers and 196 posts.
His Instagram bio says, " 6x World Snooker Champion. 20 majors, 7 masters, 7 UK's, And a keen Runner, 15 maxis, 2 146s, Brand Champion for @rokitofficial @rokitdrinks."
Actually, the player is often seen with his nutritionist on his Instagram posts.
Also, his Instagram has numerous posts about his merchandise.
Similarly, he has an Official Facebook page. His Facebook page handle is @Ronnie O'Sullivan. It has 772K followers.
Ronnie O'Sullivan: Net Worth
The net worth of Ronnie O'Sullivan is estimated to be $15 million. His career prize money of over £11.9 million makes him the highest-earning snooker.
Besides, the books he published and the brand sponsorships earn him a handsome amount too.
Similarly, you may be interested to learn about Rich Froning Jr.
Interesting Facts about Ronnie O'Sullivan
Ronnie O'Sullivan was awarded an OBE (Most Excellent Order of the British Empire) in the 2016 New Year Honours.
The player's other career highlights include four Welsh Open titles, four Shanghai Masters titles, three Champion of Champions titles, and two China Open titles.
He is known for his fast and attacking style of play. After winning a best of the nine-frame match in a record of 43 minutes during his debut season, he was given the nickname 'The Rocket.'
Also, he is right-handed but can play with his left hand. He also routinely alternates his hands wherever needed. Actually, this enables him to attempt shots with his left hand that would otherwise require a rest or spider.
Ronnie displayed his left-handed ability in the 1996 World Championship against Alain Robidoux. However, the opposition accused him of disrespect and refrained after the match.
In December 2020, Ronnie O'Sullivan was nominated for the BBC Sports Personality of the Year Award.
Likewise, in 2021, the athlete scored his 1100th century in his quarter-final match against John Higgins at the Cazoo Tour Championship.
The player has also been involved with several video games. In fact, he also had his own game, Ronnie O'Sulllivan's Snooker, World Snooker Championship, and Virtual Snooker released in 1996.
FAQs
Who is the richest snooker player?
Steve Davis is the richest snooker player in the world. The English player has a net worth of $33.7 million.
Is Ronnie O'Sullivan's dad still in jail?
No, the player's dad was released from his life sentence in 2012 after spending 17 years in jail.
Who is the oldest snooker player still active in the sports?
Mark Davis is the oldest snooker player who is still playing. In fact, he was ranked at 49 in the recent record of May 4, 2021.
Does Ronnie O'Sullivan still run?
The snooker player Ronnie O'Sullivan admits that he runs 26.2 miles in less than three hours. However, he cannot continue that while his snooker career is still going on.