Jordan Binnington Racist Tweets: What Did St. Louis Blues Goalie Say? Twitter Reaction
NHL player Jordan Binnington racist tweets surprised everyone. The tweets from 2013 were described as culturally insensitive and rude.
The Canadian pro ice hockey player plays as a goaltender for St. Louis Blues after being drafted in the third round, 88th overall in the 2011 draft.
Jordan played minor hockey with the Vaughan Kings and major junior hockey with the Owen Sound Attack in the OHL from 2009 to 2013.
Moreover, he played in the 2013 IIHF World U20 Championship for Canada. Jordan was the first NHL rookie goaltender to achieve 16 wins in a single postseason.
Find Out: Is Imran Khan Dead Or Alive? Shot In Foot- Who Attack Pakistani Former Prime Minister?
Jordan Binnington Racist Tweets: What Did The St. Louis Blues Goalie Say?
In April 2019, as Jordan Binnington was preparing for his first NHL playoff against the Winnipeg Jets, he found himself amid criticism and questions about the racist tweets he had posted six years ago.
Two tweets, written in 2013, were about women wearing burqas, and another one, from 2014, was about a taxi driver speaking a foreign language.
In the next tweet, he wrote, "Also, if you're underage & nervous of getting into a bar, throw the damn burka on. No way the bouncer will get into that awkward questioning."
Then, Jordan tweeted about a taxi driver in 2014, saying, "Ya taxi man, I'd probably rather listen to the radio than listen to you talk on the phone in another language."
Twitter Reaction And Responses To Jordan Binnington Tweets
After the tweets resurfaced and trended online, Twitter reactions were full of shock and criticism towards Jordan Binnington.
The Blues goalie has also responded, answering about his actions. He said it was meant to be "a little sarcasm" and that he was joking around as a teenager. He added that he has lived and learned as he grows as a human.
The NHL announced they would take no action against Jordan for his comments. NHL deputy commissioner Bill Daly stated there would be no point in specifically addressing a five-year-old social media posts from a Player who was not even a part of the league at the time.
Jordan Binnington Parents Divorced Long Ago
Jordan Binnington was born to his parents, John Binnington and Lindsay McGeachie, in 1993. His Father, John, worked as a team Leader at Rogers, while his mother, Lindsay, teaches at York Region District School Board in Toronto.
Jordan was born in Richmond Hill, Ontario, Canada, and grew up in Toronto. He has one sibling: a sister named Sydney.
His parents supported him in developing his ice hockey talent by enrolling him in a local hockey club. However, they divorced when Jordan was a kid. Due to the split, he has to visit his mom and dad for the holidays alternatively.
Jordan now has a stepmom, Pam. John met her 18 years ago when the two were both working at Rogers. He was a team Leader, whereas Pam was a project manager.
Pam found Jordan very sweet when she met him. Her nickname for him was 'LG,' meaning 'little gentleman.' She praised him for his kind heart and thoughtfulness.
Jordan Binnington Is Engaged With His Girlfriend, Cristine Prosperi
Jordan Binnington is in a relationship with Canadian Actress Cristine Prosperi. The pair got engaged in Toronto in 2021 but are yet to tie the knot.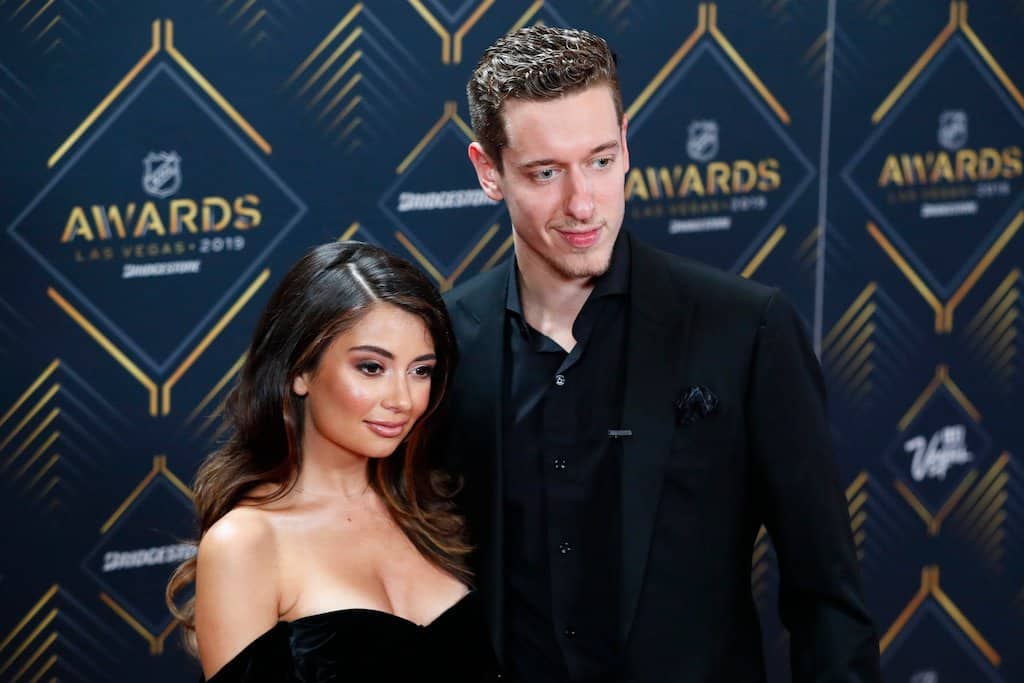 After beginning her acting career in 2006, Cristine has starred in numerous films and shows, including Degrassi: The Next Generation, Bring It On: Worldwide, #Cheersmack, Murdered at 17, and The Wrong Cheerleader.
She is best known for portraying Imogen Moreno on Degrassi, for which she won a Young Artist Award in 2012.
Cristine is also a singer and dancer. Born on April 7, 1993, Cristine is currently 30 and three months older than her fiancé Jordan.
Explore More: Bryce Harper Health Update: Has Philadelphia Phillies Hitter Undergone A Surgery?