Rachel Homan: Career, Husband, & Net Worth
Rachel Homan is widely known as the Canadian International curler. She is referred to as the "Superwoman" due to her outstanding performance and determination.
Homan is a three-time Canadian national champion and also the 2017 world champion in curling. She did it all as a skip.
She is famous for her strategies and her leadership capabilities.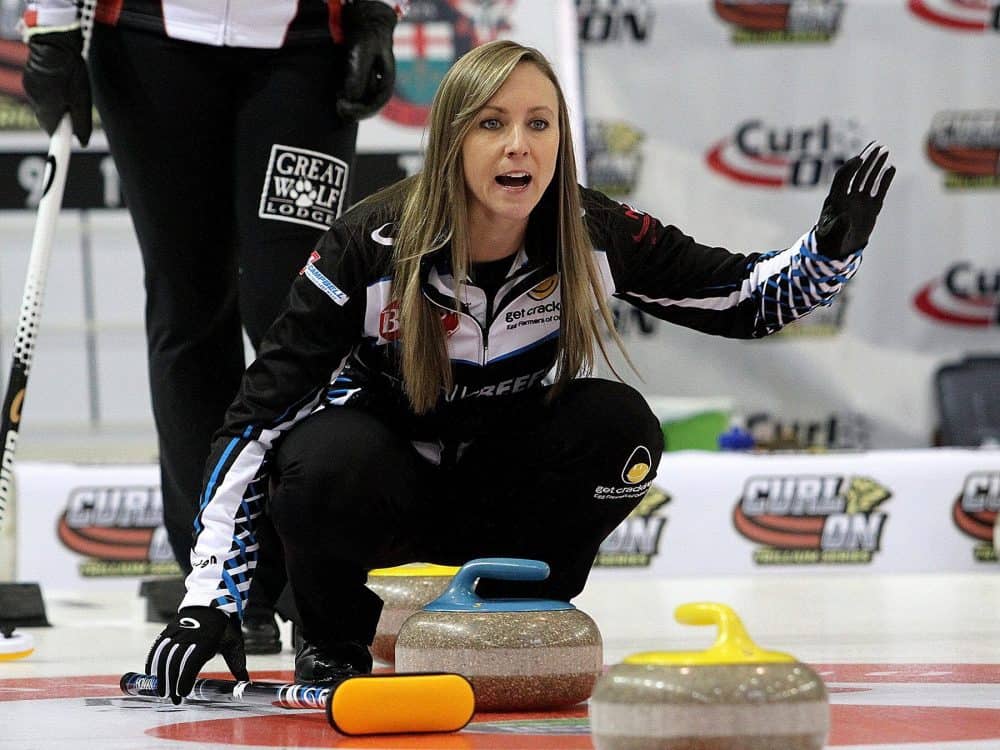 Since her junior days, Rachel has played for the Canadian national team and has won countless medals and titles.
The Canadian beauty has also competed in two Canadian Olympic Curling Trials, where she got third place in her first try in 2013.
Further, on her second try, she won the competition easily.
Quick Facts
Let's look at some facts about Rachel Homan before we get into her career and life.
| | |
| --- | --- |
| Full name | Rachel Catherine Homan |
| Date of birth | April 5, 1989 |
| Age | 34 Years Old |
| Birthplace | Ottawa, Ontario |
| Nationality | Canadian |
| Religion | Not Available |
| Ethnicity | White |
| Alma Mater | Cairine Wilson Secondary School, University of Ottawa |
| Father's name | Craig Homan |
| Mother's name | Catherine Homan |
| Sibling | Mark Homan |
| Zodiac sign | Aries |
| Height | 1.64 m |
| Weight | |
| Spouse | Shawn Germain |
| Children | Ryatt Mitch Germain (son), Bowyn Germain (daughter) |
| Profession | Curler, Personal trainer |
| Social Media | Twitter, Instagram, Facebook |
| Net Worth | $1 million- $5 million |
| Curling Equipment | Gloves, Arm Blaster |
| Last Update | 2023 |
Rachel Homan | Body Measurements and Physical features
The 34 years old curler Rachel Homan stands 5 feet and 5 inches tall. Although she is short compared to other curlers, she uses this to her advantage.
Similarly, she is very agile and swift due to her diminutive height. Moreover, she has a body measurement of 29-24-34. The curler has a bust size of 29 inches, 24 inches is her waist size, and lastly, she has 34 inches wide hips.
Homan has a beautiful pair of blue eyes which is furthermore complemented by her light brown hair.
Rachel Homan: Early Life
Parents and Siblings
Rachel Catherine Homan was born to her father Craig Homan and mother Catherine Homan in April 1989. She was born in Ottawa, Ontario. Rachel also has a brother named Mark Homan who is ten years older than her.
Homan is a very private person, and she has not disclosed any information about her family, asides from her parents' names.
You may be interested in reading about Russ Howard.
Childhood
Since her early days, Homan was an athletic kid, and she has been into curling for most of her life. She started curling at the age of 5 in the Rideau Curling Club and honed her skills till going professional.
Both of her parents saw her capabilities and supported her to the fullest extent. The curler played in the Little Rock program that was held in Ottawa.
In her under-16 career, she won provincial championships for four consecutive years. The player achieved this feat when no curler of her age had even done it.
This got the attention of the Canadian team Scouters, and thus, the Junior Canadian curler team recruited her. Before joining the national team, she also won the Optimist International Under-18 Curling Tournament in 2006.
Rachel Homan: Career
Amateur Career
Homan had been curling for a long time, and the big names already recognized her in curling.
Unfortunately, when Rachel and her team started playing at a higher level, she faced some difficulties at the beginning of her career.
During the first two years of her junior level, she could not win the provincial championship. She reached the semifinals and finals in those two years but ended up losing.
But the losing streak came to an end when Rachel and her teammates won the 2009 Canadian Junior Curling Championships. Moreover, she also followed it up with another win at the 2010 provincial championship.
Due to their excellent performance, Rachel, alongside her teammates were selected to represent Ontario at Canadian Junior Curling Championships.
In the Canadian Junior Curling Championships, Rachel and her teammates proved that they were the strongest junior team at the moment. They won all their matches. They ended with a score of 13-0 throughout the tournament.
With this achievement, they became the only fourth women's team in history to do so.
Professional Career
Homan began her professional career in 2010, and in her first year, she won the 2011 Ontario Scotties Tournament of Hearts.
Next, in 2011, The curler participated in the Ontario Mixed Championship, but she did not play her usual position of 'skip.' Instead, she played as a third for her brother, despite that she was able to win the tournament alongside her brother.
After that tournament, the team got ready to participate in the Grand Slam. They performed well in all the matches and got to the finals.
Unfortunately, her team lost against Jennifer Jones in the finals.
This misfortune followed her again to the Scotties Tournament of Hearts in 2012. Her team performed expectingly well, but once again, they were defeated when they got to the finals. She was frustrated when they lost two finals in a row.
Again in 2012, Homan participated and got to the finals of the 2012 Curlers Corner Autumn Gold Curling Classic but convincingly lost to the Sherry Middaugh team in the finals.
Next, the Grand Slam came again, and the curler was hoping to break her curse from where it originated, but unfortunately, it happened again.
The Canadian player once again lost in the finals against Stefanie Lawton.
This loss streak and the finals curse finally came to an end in the third grand slam event of the year, titled the 2012 Masters of Curling.
She won her first-ever grand slam event and broke her long curse of losing in the finals.
Winning the silver medal at the World Curling Championships
At the start of the 2013-14 season, Rachel and her team were looking strong, coming from a win at the grand slam event and winning a bronze medal at the world championships. They started their season by participating in the tour events and won the 2013 Masters.
This win boosted their confidence in the upcoming tournaments and the World Curling Championships.
Around that time, the 2014 Scotties Tournament of Hearts started, and Homan and her teammates were ready to defend the title, and they did so.
Rachel and her team played outstandingly and did not lose a single match in the whole series.
They also defeated Val Sweeting in the final and retained their title for the year again.
This win made Homan the youngest skip to win the Scotties consecutively.
The 2014 Ford World Women's Curling Championship approached closer, and Homan and her team were coming off a fresh win, so they were excited about it.
In the 2014 Ford World Women's Curling Championship, they performed well and got to the finals but unfortunately lost in the finals.
Despite losing, they performed exceptionally well, and it was a very intense final.
Even though it was a bummer, Rachel and her teammates did their best, so they were somewhat happy with the outcome.
They earned the silver medal and stood in second place.
You may want to read about Brad Jacobs.
Change in the team
Things were going fine, but just fine was not enough, so they decided to change their second position.
Joanne Courtney was invited to join the team and play alongside Rachel and her teammates.
The fans were expecting rather well performances from the team as they had a rooster change, but unfortunately, that was not the case.
The Homan team had some rough patches and was not able to win any tournaments in the beginning.
The fans were getting impatient.
Again the finals curse had fallen upon the team, and they lost three straight finals at the 2014 Curlers Corner Autumn Gold Curling Classic, 2014 Canadian Open of Curling, and 2014 Canada Cup of Curling.
Despite the 2015 season being a bad year, they decided to stick together, and in the next season, they started conquering every match and tournament.
The same team that lost three finals in a row went on to win six World Curling Tour events in a row.
<<Sadio Mane: Early Life, Charity, Awards & Net Worth>>
Olympics
After an outstanding performance in the 2016 season, Homan and her team were selected to represent Canada in the Olympic games.
They started the year by winning the 2017 Canadian Olympic Curling Trials.
This win pretty much solidified their position to represent the Canadian team in the 2018 winter Olympics.
The Olympics were not going to be easy due to the vast crowd and expectations of the whole country.
It seemed as if the pressure had got the best of them, and they started their Olympic journey with three consecutive losses.
But they did not lose hope despite being in a bad situation and won their next three games but followed it up with two losses again.
In the playoffs, they won 3 games and lost five games.
This placed them around the bottom of the group, which resulted in them getting eliminated from the playoff stages of the tournament.
The Burned Rock
During the 2018 Winter Olympics held at Gangneung, South Korea, a drama arose when a Danish player touched a stone at rest in its home, a burned rock. The opposing team had three options; to either ignore the foul, re-arrange the stones, or remove the stone.
Homan went forward with removing the stone which brought forward controversies as it had no impact on the stone's final resting place. Homan's this move was suggested by many as very "unsportsmanlike".
Current Stats
After the loss at the Olympic games, the Homan team was down, but their spirits went back up when they managed to win the 2018 Tour Challenge.
Furthermore, they followed up the grand slam win with the win at the 2018 National.
In the 2019-2020 season, they played in the 2019 AMJ Campbell Shorty Jenkins Classic and reached the semis but lost there.
But then won the 2019 Colonial Square Ladies Classic.
The most recent changes in the team are that they parted ways with their long-time lead player Lisa Weagle and signed Sarah Wilkes.
Due to the ongoing pandemic, there aren't many matches, but they finally have time to spend with their family.
Rachel Homan: Husband and Kids
Rachel is married to Shawn Germain.
The couple got married in September of 2016 and has been in a happy relationship since then.
Shawn Germain is a Canadian Ice hockey player who plays for the Stony Plain Eagles.
Ben Johnson's 2018 tweet captured Homan's husband Shawn Germain getting beer mid-game during the Winter Olympics in South Korea. Typical Canadian.
Favourite Olympic moment so far: Canadian curler Rachel Homan's husband double-fisting his third and fourth beers while watching his wife compete against Japan. It's 9am in Korea. Not all heroes wear capes. #PyeongChang2018 pic.twitter.com/jzrVsu06Vi

— Ben Johnson (@Ben_T_Johnson) February 19, 2018
The couple has two children named Ryatt Mitch Germain and Bowyn Germain. Ryatt is their older son, born in 2019, and Bowyn is their newborn daughter, who was born in early 2021. They live together in St. Paul, Alberta, in Canada.
Rachel Homan: Net Worth
Rachel has earned a lot from her career and also from endorsements. Homan's precious engagement ring was made up of Diamond and Sri Lanka Sapphire which cost around $1,600.
The estimated networth of Rachel Homan is between $1 Million to $5 Million.
She and her team have won countless tournaments with a massive prize pool. The curler also earns as a personal trainer.
Rachel Homan: Social Media
Homan is available on Twitter, Instagram, Facebook. Her being active on social media platforms has been the major reason behind the rapidly increasing follower count.
Firstly, She has 39.5K followers on her Twitter account. Whereas, on her Facebook account, she has amassed 30.9K followers. Lastly, she has 41.5K followers on her Instagram account, making it her most followed social media account.
These numbers on her social networking sites have been rapidly increasing.
FAQs
What degree does Rachel have?
She graduated with a degree in Human Kinetics.
Is Homan on a break?
She was on a brief break due to her pregnancy, but she's back now.
Is Rachel Homan still married?
Rachel Homan got married to Shawn Germain in 2016 and the couple has been living happily ever since.