Roselyn Sanchez Has Two Kids Sebella Rose And Dylan Gabriel Winter With Her Husband Eric Winter
Who are Roselyn Sanchez Kids? If you're a fan of actress Roselyn, you might be wondering the same questions. Don't worry; this article will clear all your queries and confusions.
Roselyn Sanchez is a multi-talented Puerto Rican singer, songwriter, actress, model, producer, dancer, and writer, who has been active in the entertainment business since 1992.
Roselyn is best recognized for her appearances as Carmen Luna in the comedy-drama "Devious Maids" (2013-2016), Elena Delgado in the series "Without a Trace" (2005-2009), and Elena Roarke on "Fantasy Island" (2021-Present).
Likewise, Sanchez has starred in blockbuster movies such as "Rush Hour 2" (2001), "Boat Trip" (2002), "Act of Valor" (2012), and many more.
Even before joining the movie industry, Roselyn was already a star on her terms.
Sanchez achieved international fame after winning the Miss Puerto Rico Petite competition in 1993 and the Miss American Petite competition in 1994.
Furthermore, she has appeared on multiple annual lists of gorgeous women, including the "Hot 100" issues of Maxim Magazine in 2001, 2002, and 2006.
Also Read: Marisela Federici Figlia: Italian Actress Husband Family And Net Worth
Roselyn Sanchez Has Two Kids, Sebella Rose And Dylan Gabriel Winter, With Her Husband, Eric Winter
Roselyn Sanchez is the mother of two children; daughter Sebella Rose, born in January 2012, and son Dylan Gabriel, born in November 2017.
Both of the kids are the result of her marriage to her second husband, American actor and model Eric Winter.
After dating for two years, Sanchez was engaged to Eric in December 2007, and they wedded on November 29, 2008, in San Juan, Puerto Rico.
She was initially married to former boxer and English actor Gary Stretch from August 9, 1998, to April 15, 2001.
With the divorce finalized, Sanchez began dating Puerto Rican salsa singer Victor Manuelle, but their relationship ended in December 2005.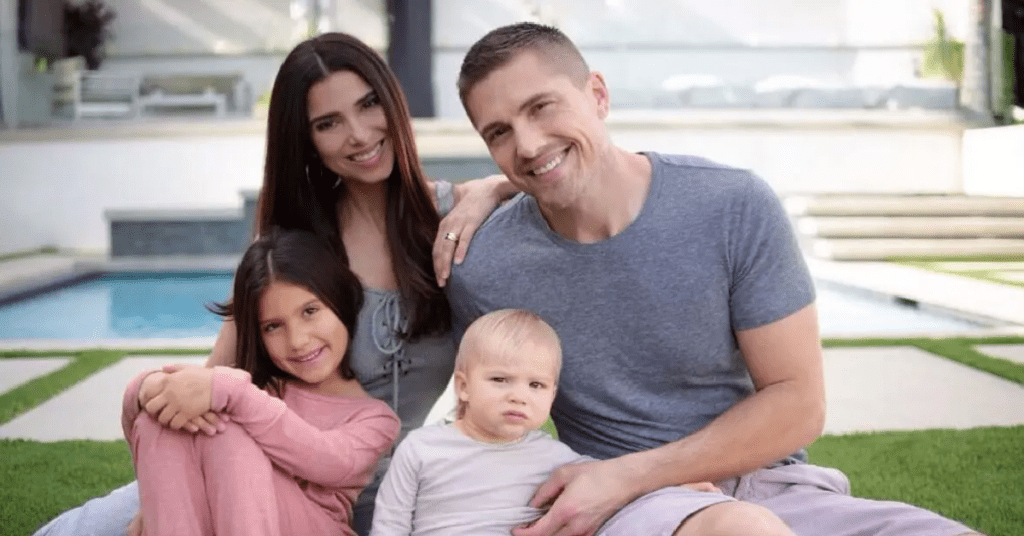 In an interview, Roselyn acknowledged that balancing parenthood and her demanding profession is challenging.
She even said she felt guilty when she wasn't present for their special function at school because she had to work.
Hence, she tries to make it up to them as much as possible. Roselyn noted that her parenting approach has significantly changed since giving birth to Dylan.
With the first child, they were extremely cautious and had to make everything perfect, but after Dylan was born, they were plenty more experienced and weren't scared to make any mistakes.
What Is Roselyn Sanchez's Net Worth?
According to Celebrity Net Worth, actress, model, and singer Roselyn Sanchez has a whopping net worth of $5 million.
She has accumulated such huge wealth through a long-acting as well as a music career.
In 1997, she was paid $7,500 per episode on the series "Fame L.A," but she was still not mainstream.
Sanchez rose to fame in 2001 thanks to a big supporting part in the action comedy "Rush Hour 2," in which she portrayed Jackie Chan's character's love interest.
After that, she appeared in tons of movies and television series in her career. She had her busiest year in 2005, when she had five film performances.
They were the direct-to-video crime movie "Shooting Gallery," the thriller "Edison," the action comedy "Underclassman," and the criminal drama sequel "State Property 2."
In the same year, Sánchez debuted as Elena Delgado, the lead character on the CBS police drama "Without a Trace," a position she held until the show's finale in 2009.
Roselyn played a significant role in the short-lived ABC mystery thriller "Grand Hotel" in 2019.
Moreover, she debuted as a recording artist in 2003 with the release of her album, "Borinquena."
The album's lead single, "Amor Amor," was a big hit and received a Latin Grammy nomination for Best Music Video.
Explore Ciarán Hinds Daughter, Aoife Hinds Is Also An Actress, Family And Net Worth