Aaron Hernandez Death: Murder Or Suicide? What Happened To His Brain?
Aaron Hernandez death is a topic of massive interest for the public even though it has been five years since the incident happened.
Let us take a closer look at life, the cause of being jailed, and how Aaron died. Keep reading this article to uncover the truth about him.
Aaron was sent to prison after being found guilty of first-degree murder. Before being accused of such horrible crimes, he was a very talented football player.
Hernandez was detained and accused of the death of Lloyd, a semi-pro athlete who was dating Hernandez's fiancée's sister, during the 2013 offseason.
The Patriots quickly released Hernandez after his arrest. At the Souza-Baranowski Correctional Center, he was found guilty of first-degree murder in 2015 and given a life term without the possibility of release.
Hernandez was charged with the 2012 double homicide of Daniel de Abreu and Safiro Furtado while on trial for the murder of Lloyd; he was found not guilty in a 2017 trial.
Aaron Hernandez Death: Murder Or Suicide?
After being sent to prison, Aaron Hernandez was mysteriously found dead in his cell, leading to a lot of hocus pocus around the Police officers and well-wishers.
He was a successful football player before that incident set him back a fair few; maybe it was too much for him to deal with.
Hernandez was discovered dead in his cell, and it was determined that he committed suicide days after being cleared of the double killing.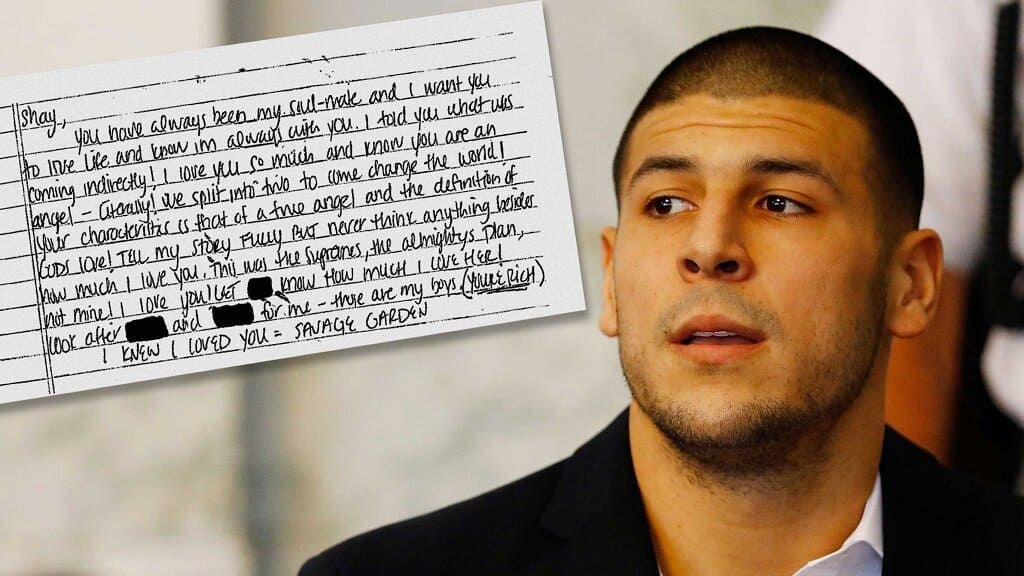 Hernandez passed away during the appeal; therefore, his conviction for Lloyd's murder was first overturned under the abatement ab initio theory.
However, it was reinstated in 2019 after the prosecution and Lloyd's family's request.
Chronic traumatic encephalopathy (CTE) was discovered after Hernandez's death, which has raised questions about how the ailment might have affected his behavior.
According to his Wikipedia page, he grew up in an abusive household where he shaped his behavior. The football player saw his parents fight a lot, and if we are to believe the online speculations, his mother had thrown his Father out of the House multiple times, but he always came back.
Hernandez claimed during a conversation in a jailhouse that his mother, Terri failed to get him ADHD medicine, which was why he claimed he had trouble in school.
He informed her over the phone, "There are so many topics I would love to discuss with you for you to get to know me better as a person. But I was unable to inform you. And you'll pass away before you ever meet your son."
You Can Also Explore: Who is Vittoria Conte? Antonio Conte And Elisabetta Muscarello's Daughter Age And Boyfriend
What Happened To Aaron's Brain?
After his passing, Hernandez's brain was brought to Boston University, where scientists cut it into tiny slices for analysis. Their conclusions? He had Stage 3 chronic traumatic encephalopathy, which was "riddled" in his brain (CTE).
Athletes who frequently suffer concussions and other head knocks, such as football players, boxers, and soccer players, have been reported to develop this neurodegenerative illness, which has four phases.
It has been linked to cognitive dysfunction, memory loss, and suicidal thoughts and actions.
Aaron lived a very troubled life right from the beginning. From being in an abusive household to living with a life-threatening brain problem, his bad luck never ended.
And if we are to believe the reports, he finally broke down and committed suicide in his cell.
Hernandez was also sexually raped as a child, claims his brother D.J. When Hernandez was six years old, and for several years after, a teenage boy in his babysitter's home forced him to have oral sex with him.
Also Read: Robert Kraft New Wife Age: How Old Is Robert Kraft New Wife Dr. Dana Blumberg? Family And Net Worth